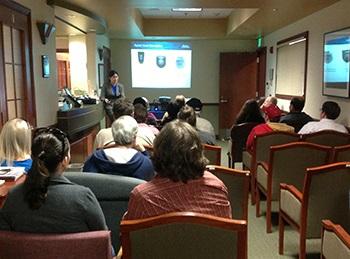 Dr. Kathy Wang of Microsurgical Spine Center and NeoSpine recently led presentations in conjunctin with Boston Scientific on managing chronic pain. Dr. Wang is a doctor of osteopathic medicine, board-certified in pain management and anesthesiology.
Both medical professionals and patients were invited to attend. Patients having undergone spinal cord stimulation were invited to share their success stories and dramatic improvements in quality of life.
Both seminars were well-attended, and Boston Scientific plans to use Dr. Wang's format in upcoming presentations, including a presentation at Becker's Spine 12th Annual Spine, Orthopedic and Pain Management-Driven ASC Conference in Chicago.
Do you or a loved one have chronic pain? Contact us or call our dedicated Medical Concierge at 800-890-1964 to learn more about treatment options.