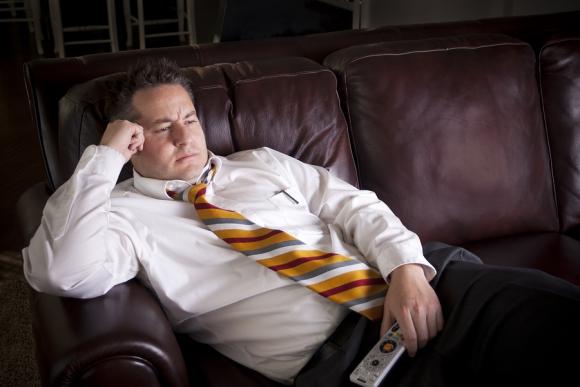 Americans watch almost five hours of video each day, most of which comes from a television, but some of which comes from a computer or smart device. No matter which way you get your daily dose of video goodness, the way you're watching it is almost certainly the same: Slumped down on a soft seat or slouched over in a desk chair in a semi-reclining mode that may feel like it's relaxing – at least at first – but which can actually be doing significant damage to your lower back.
Slouching in front a viewing screen – television, computer or otherwise – has long been a favorite American pastime, and while recent data from The Nielsen Company reports a tiny decline in TV viewing, that decrease has been more than compensated by an increase in viewing on other devices, including smartphones and tablets. And while many of us may have linked obsessive video-watching with some stiffness or discomfort when we finally sit or stand up, it's a good bet most of us have little idea how much harm we could really be doing.
Scientists in Australia decided to try to determine just how bad pervasive video-viewing is for the back muscles, so they conducted a study. What they found was that prolonged periods of inactivity like slumping in front of the television for multiple hours a day can cause the same type of lower back symptoms as a physical injury. In fact, radio imaging of study participants indicated that after eight weeks of inactivity, lower back muscles had significantly degenerated.
What's more recovering from inactive periods wasn't as simple as just getting up and moving around for a few days. In fact, many study participants still had not fully recovered six months after the experiment ended.
Of course, few people are going to give up their video habit entirely, but there are a few things you can do to make sure your back doesn't bear the brunt of it. First, be sure to take frequent breaks. Rather than sit in front of a screen for hours on end, plan out your viewing to include intermittent periods of walking and other activity. Be sure to sit up and support your back properly while in watching videos. And when commercials come on, use the opportunity to do a few exercises instead of heading for the fridge for a snack. It doesn't take big changes in your habits to see big results in your back pain and health.
If you're experiencing chronic back pain, please stop suffering and schedule your consultation with Microsurgical Spine today!